VIZIO M190VA 19-Inch LED LCD HDTV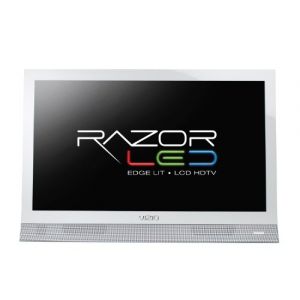 For cost conscious consumers a 19 inch screen has usually been considered too expensive for kitchen TV use. But all that could be about to change with the introduction of the
Vizio M190VA
. This sleek, ultra thin HDTV offers a bright 720p screen, a full compliment of connectivity options and comes in both white and black to fit any kitchen decor. Throw in a rock bottom price and this is one kitchen TV that means business.
Visually the M190VA aspires to a minimalist aesthetic. A 18.5 inch wide screen framed in a glossy plastic border with a bottom edge grill that curves slightly toward the viewer. The Vizio logo is centrally located along the bottom screen border and is the only accent in an otherwise clean and unobtrusive design style.
There is both a rear and side panel for a full range of connectivity choices. The rear panel contains 2 HDMI ports, a optical SPDIF, a RGB PC with PC audio in, standard 75ohm coax and Y, Pb, Pr component jacks. The side panel has a headphone jack, composite A/V and a USB port.
The sound quality is a bit tinny, and the volume is limited even with forward facing speakers. You can always hook up some auxiliary speakers but first try adjusting the bass, treble and equalizer controls from the audio menu. We found the default factory settings to be less than optimal and with a little bit of trial and error you can improve things noticeably. Don't expect thundering surround sound, but there should be enough of a difference to make it worth the effort. Vizio also include their TruVolume feature which evens out the volume level between different programming. If you've ever been blasted by a TV commercial you will no doubt want to switch this on.
The Vizio M190VA can accommodate several different install options. The included stand attaches to the base and protrudes to the rear. There is no tilt or swivel adjustment, but the stand does not alter the height of the screen. This allows the M190VA to squeeze into tight spaces beyond the reach of other screens this size. If your install location does not offer a good viewing angle you can opt for a wall mount using any VESA compatible 75mm TV mount.
Specifications
18.5 inch LCD HDTV 720P

NTSC/ATSC Tuners with QAM

Viewing Angle: 170°/160° (horizontal/vertical)

Rear Connections: Coax, HDMI x2, Component, VGA, PC Audio In, SPDIF

Side Connections: Headphone Jack, A/V Composite, USB Port

VESA 75mm compatible

Sleep Timer

Parental Control (V-Chip)

Full Remote

AC 120Volts 60 Hz

As more consumers have become accustomed to big screen TVs in their living rooms, it is no surprise that they would want a similar experience in the kitchen. The
Vizio M190VA
is a cost effective compromise that will appeal to many home chefs.
Useful Links
Vizio M190VA Product Page
Vizio M190VA Owner's Manual
Tags: 19in screen, countertop, kitchen tv, under cabinet, wall mount,