Haier HLT71 7.1in LCD TV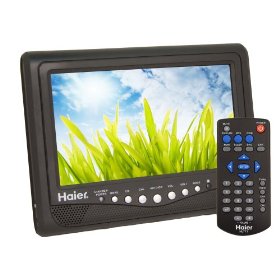 The
Haier HLT71
is a handy little portable TV with a 7-inch LCD screen that switches between a 16:9 and 4:3 aspect ratios. It has a built-in ATSC/NTSC tuner with detachable antenna. It's the perfect "kitchen counter" TV with fold-out kick stand and full function remote control.
Its intuitive design will have you set up and working in minutes. It has a rugged black case that feels like hard rubber that helps protect against real world knocks and scrapes. The screen is very bright and is non-glare. Colors are vivid and picture is sharp.
The included stick antenna only provides basic access to nearby stations. To get the most out of this TV we recommend you purchase a separate digital antenna or use a cable TV hookup. The built-in tuner can handle ATSC (over the air digital TV), NTSC (analog TV), regular cable and non-encrypted QAM cable.
If you are using coax as your input you might find the cable stiff and unwieldy for such a small and lightweight device. A simple solution is to buy ultra thin video cable from your local electronics store, and use it to connect the unit to the coax cable via a female-to-female splice. This will prevent the unit from being thrown around whenever the cable gets shifted.
The sound volume is fairly typical for a TV this size and should be adequate for most environments. If your kitchen is particularly noisy you made need the addition of external speakers to add additional volume.
It comes with a removable Li-polymer battery pack, that offers up to 2.5-hours of viewing time between charges, plus both 12v car and AC adapters. The battery cannot be charged using the car adapter and the TV must have the battery installed to work. The battery is also required to maintain previously-scanned channels in memory so make sure it is installed correctly. Pay particular attention to the small white plug that connects the battery to the unit.
The stand-by light on the front of the unit doubles as a battery charge indicator if the main power is turned off. The light will dim as the battery charges, going out completely when the battery has a full charge. While there is no battery meter, a warning icon will flash on the screen when the battery is low.
Specifications:
7-inch portable LCD TV with ATSC/NTSC tuner

Selectable screen aspect ratio of 16:9 or 4:3

Audio/video jack and coaxial output; detachable antenna

Multi language OSD- English, French and Spanish

AC adaptor, car adaptor

remote control

For a simple, compact kitchen TV the
Haier HLT71
packs a lot of features for a reasonable price.
Tags: 7in screen, ATSC, countertop, kitchen tv, LCD TV,