Kitchen TVs with 12 Inch Screens
A screen of 12 inches represents a good trade off between compact size and viewing distance.
Product Summaries
---
Coby TFTV1212 12 in LCD TV
The Coby TFTV1212 comes with a 12.2-Inch LCD screen and a small footprint counter top design that is ideal for kitchen environments.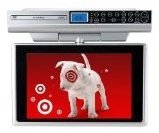 Audiovox KLV3913 12 in. LCD TV/DVD Combo
Looking for the Audiovox KLV3913 under cabinet kitchen TV? The bad news is they're no longer available. But we do have some good news...
Tags: 12in screen, countertop, flip down, kitchen tv, undercabinet, wall mount,