Venturer KLV39082 8-In Kitchen TV/DVD Combo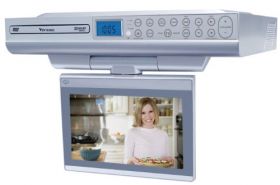 If you've been looking for an under-cabinet kitchen TV, but your kitchen isn't that big, the
Venturer KLV39082
offers a practical and stylish solution. With a screen size of 8 inches it can squeeze into tight corners better than its bigger competitors, but still comes equipped with the all the bells and whistles you're likely to need.
Like all under cabinet TVs the KLV39082 requires proper installation. Since this involves drilling holes in the bottom of a cabinet it pays to spend a few minutes to decide on a good location. A simple way to do this is to stand in your kitchen, near the sink or counter, and pick a nearby cabinet that you can see easily without having to strain your neck.
The flip-down screen can rotate 270 degrees, so you should be able to position it as needed, but double check you're not in the 90 degree 'blind spot' that the screen can't reach. If so select a different location.
The mounting kit comes with a set of bolts and plastic spacers and a template you can use to mark the drill holes. The instructions are straightforward and even include what to do if your cabinet has a decorative overhang. Our only recommendation is to replace the round headed bolts with counter sunk as these will fit flush when installed and wont interfere with items on the bottom shelf of the cabinet.
Make sure you have a nearby wall socket and aerial or coax connection for the TV. If your cable company offers analog or clear QAM channels you can dispense with the cable box and use the built in NTSC/ATSC tuner.
In the stowed position the screen folds up into the base unit (facing inwards) which helps protect it from everyday splatters. The front controls are wipe clean and the included remote control is magnetic. Just stick to the fridge to have it handy.
The TV tuner has an auto-scan feature to pick up available channels (digital and analog) and you can label the channels numbers with easy to remember names. The AM/FM radio can be programmed with up to 60 station presets (30 for AM and 30 for FM) and there are separate AM and FM aerial sockets for optimal reception.
You should know that Venturer have a spotty track record as far as reliability goes and we doubt the KLV39082 will be much different in that respect. The included warranty is only 90 days after which you will have to pay for any repairs out of pocket. Often these costs will exceed the value of the TV. In these situations we strongly recommend obtaining a separate electronics warranty for an additional two or three years to cover any eventuality. It's a small price to pay for some peace of mind.
If you're looking for a space saving kitchen entertainment option that wont break the bank the
Venturer KLV39082
will make a welcome addition to any kitchen. With its compact dimensions, aggressive pricing and full complement of features it should quickly appeal to anyone with limited space and funds.
Specifications:
Under cabinet 8" LCD Screen

ATSC/NTSC TV Tuner

AM/FM PLL tuning radio

Magnetic Remote Control

Clock and Timer Functions

Useful Links
Venturer KLV39082 Product Page
Venturer KLV39082 Owner's Manual
Tags: 8in screen, drop down, flip down, kitchen tv, undercabinet,