Toshiba Kitchen TVs
Product Summaries
---
Toshiba 15LV505 15.6 in LCD TV/DVD
Unless your counter top space is very tight this excellent freestanding 15.6" HDTV from Toshiba is one of the best kitchen TVs available.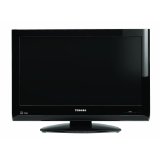 Toshiba 19AV600U 19 Inch LCD HDTV
When it comes to kitchen TVs, the Toshiba 19AV600U is about as high-end as it gets. Great picture quality, extensive connectivity and flexible mounting options make it tough to beat.
Tags: 15in screen, 19in screen, countertop, Toshiba,