Venturer KLV39103 10in Undercabinet Kitchen TV/DVD Combo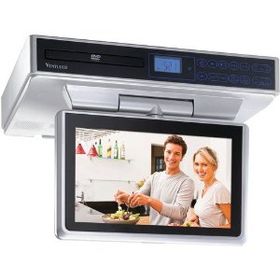 The 10 inch screen of the
Venturer KLV39103 under cabinet TV
sits comfortably between its 8 inch and 15 inch siblings from the same manufacturer. So much so that many with find this screen size a good trade off between ease of viewing and available kitchen space.
The screen can rotate 360 degrees for the optimal viewing angle and it flips up out of the way when not needed. This TV comes equipped with a ATSC TV tuner, DVD player, AM/FM radio and clock/timer. The controls are wipe-clean for easy maintenance.
Unlike many other under cabinet TVs this model also has recessed connectors at the back so as you can mount it flush with the back wall. If your cabinets are not very deep this can make a big difference in the final appearance after installation (ideally the front control panel should be flush with the cabinet face).
As with all undercabinet TVs the
Venturer KLV39103
is designed to be attached permanently to the underside of a wall cabinet. This process will entail drilling holes in one of those cabinets. If you're not that handy with an electric drill and screwdriver this step is best left to others with the right skills.
Venturer have a mixed track record as far as quality control goes and we doubt the KLV39103 will be any exception to this. To help prevent any disappointment with your purchase make sure you throughly test the unit before you start the install.
Common complaints are the flip down screen that fails to stay up in the locked position, poor TV and/or radio reception (this will vary greatly depending on where you live) and features no working or that stop working. We recommend you hook up the TV on a flat work surface and let it run for a few hours. Chances are if something is going to break it will do so early on.
Since moving the TV to a different location after installation is not very practical it makes sense to spend a few moments deciding where to place it.
First look around at your kitchen layout. Where do you stand most of the time? If you're like most home cooks it will be near a work surface, sink or stove. Now see if there is a nearby cabinet that is in your line of sight without having to crane your neck. In most situations one location will stand out from the rest, but it doesn't hurt to select a couple if your kitchen allows.
Next have an assistant carefully lift the unit into position while you stand back to check that the screen is clearly visible from your vantage point.
Before you finalize the location consider the needed connections. At a minimum you are going to need a wall socket in order to plug the TV in. If you plan on using your cable service you will also need a nearby cable jack.
The last remaining step is to hook up the power and signal line and check that everything is working correctly.
Specifications:
Under cabinet 10" TFT LCD Screen

ATSC/NTSC TV Tuner

AM/FM radio

Clock and Timer Functions

If the 10 inch screen of the
Venturer KLV39103
is too small for your kitchen check out the 15.6 inch
Venturer KLV3915
.
Useful Links
Manufacturer's website
Tags: 10in screen, drop down, DVD, flip down, kitchen tv, under cabinet tv,