Axion AXN-8701 7in LCD TV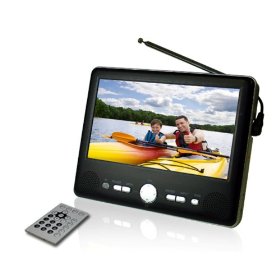 Even though the
Axion AXN-8701
bills itself as a battery operated portable TV it makes a great kitchen TV as well. A small fold out stand in the back allows you to place it on any convenient flat surface, and at 1 inch deep, it does not take up much space.
This little TV has a bright 7-inch LCD widescreen display, built-in ATSC/NTSC tuner that can handle both analog and digital channels and a supplied external antenna to tune in distant stations. One nice touch: the cord length on the external antenna is sufficient to place it away from the TV for optimum reception.
To get the most channels try running an auto-scan in different locations. Simply move the antenna and then re-scan. You'll pick up additional channels each time, adding to the final total. It is not possible to individually tune in a station.
There are A/V input connections for external audio/video sources, built-in twin speaker system and a headphone jack. The rechargeable Lithium-Polymer battery will give you about 100 minutes of use and there is also a AC power adapter as well as a car adapter. Note: You cannot charge the battery using the car adapter.
The included credit-card sized remote control does not offer an on/off button or a volume control, but you can mute the sound.
Specifications:
7" widescreen LDC mobile TV with hi-resolution and hi-brightness

Built in NTSC/ATSC tuner for both analog and digital channels

Built-in antenna allows easy repositioning for reception

External antenna to pull in more distant stations

A/V input for external audio/video sources

Built-in speaker

Built-in rechargeable lithium-polymer battery

Card style remoter control

Car adapter

Headphone jack and volume control

If you're looking for a small, sleek, mobile TV that can pull in the latest digital stations with either an antenna or cable connection, the
Axion AXN-8701
is a solid pick.
Tags: 7in screen, ATSC, countertop, kitchen tv, LCD TV,