Philips AJL750 Undercabinet Kitchen TV
Clutter Free Kitchen Entertainment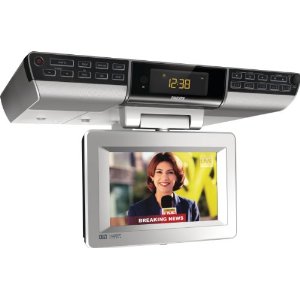 The
Philips AJL750
is the company's latest offering in the undercabinet kitchen TV space. Cosmetically it is very similar to the earlier DCD778, but with a smaller screen and no DVD player.
The AJL750 is ideally suited for small kitchens where space is at a premium. The overall dimensions are 11.5in deep x 3.9in high x 14.5in long so it can easily fit into tight spaces. In keeping with the 'small-is-beautiful' ethos the screen measures just 7in and the whole unit weighs in at just over 7lbs.
As with all undercabinet TVs you will need to drill holes in the bottom of your cabinet. Included is a template which can be used to help align the mount holes correctly. The kit also includes some plastic spacers to allow for overhangs and decorative valences.
The AJL750 comes with a ATSC digital tuner, but no DVD player and only FM radio. That's right, there is no AM radio. On the plus side the full function remote is magnetic so you can stick it to the fridge door.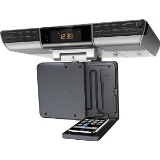 One unusual feature we liked is the built-in MP3 link. A small compartment door behind the main screen folds out to reveal a small recessed pocket that can house an iPod. Just hook up the plug to the headphone jack and select MP3 as the input and you're ready to go.
Sound quality is so-so via two small 2" speakers. For additional bass there is a 'dynamic bass enhancement' button but don't expect to rattle your windows with it.
From the outset Philips have tried to make this kitchen TV as simple and easy as possible, concentrating on the most useful features and foregoing everything else. If your needs are modest the
Philips AJL750
might just fit the bill.
Specifications
7 inch LCD TFT widescreen 16:9 display

Digital ATSC Tuner

FM Radio with antenna

MP3-Link for portable music playback

Digital Clock Timer

Magnetic Remote Control

Dynamic Bass Boost

Universal AC 100-240 Volts 50-60 Hz

Useful Links
Philips AJL750 Product Page
Philips AJL750 Owner's Manual
Tags: 7in screen, drop down, flip down, kitchen tv, undercabinet,