Venturer Kitchen TVs
Venturer Electronics is headquartered in Markham, Ontario, and caters to the cost conscious consumer. They currently produce two of the most popular under cabinet kitchen TVs on the market. See below for details.
Product Summaries
---
Venturer KLV3915 15.4in Kitchen TV/DVD Combo
For an under cabinet kitchen TV the KLV3915 offers one of the most compelling feature sets we've seen. And the 15.4" LCD screen is just the beginning.
Venturer KLV39103 10in Undercabinet Kitchen TV/DVD Combo
The 10 inch screen of the Venturer KLV39103 under cabinet TV sits comfortably between its 8 inch and 15 inch siblings. But is it just right for your kitchen?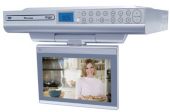 Venturer KLV39082 8-In Kitchen TV/DVD Combo
If you're looking for a space saving kitchen entertainment option that wont break the bank the Venturer KLV39082 will make a welcome addition to any kitchen
Tags: 16in screen, 8in screen, drop down, DVD, flip down, kitchen tv, undercabinet,