RCA Kitchen TVs
Product Summaries
---
RCA DETK156R 15.6 in Kitchen LED TV
With a screen size a tad under 16 inches the RCA DETK156R LED TV is squarely in the kitchen TV camp.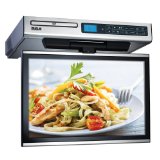 RCA SPS36123 15.4 in Kitchen TV/DVD Combo
With the RCA SPS36123 under cabinet TV you get a big 15.4" screen, ATSC tuner, DVD player, AM/FM radio and a chef friendly clock/timer.
RCA SPS36073 7in Kitchen TV/DVD Combo
The RCA SPS36073 is the latest entry in the under cabinet TV market. It comes with a 7in screen, ATSC tuner and DVD player.
Tags: