Sceptre E165BV-HD 16 inch LED HDTV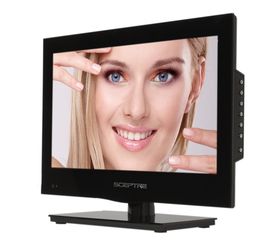 Small screen TVs are a dying breed. Just try to find one in your local electronics store. But all is not lost. Enter the
Sceptre E165BV-HD 15.6" LED HDTV
. It's small enough to fit on most shelves and light enough to attach to a standard flip down mount without sagging.
The screen is HD 720p with a resolution of 1366 x 768. Not great, but more than sufficient for its intended use. Viewing angle is tight so make sure you position it where you can view it straight on. You won't be lost for connections as this little TV comes with virtually every kind of socket imaginable. Two HDMI inputs, USB, Component YPbPr, Composite, headphone jack and even a digital SPDIF audio out.
The sound quality is, well not great. More like an AM radio stuffed in a closet. We highly recommend attaching a pair of speakings using the headphone jack, especially if you're in a noisy environment.
The included stand does not allow the screen to tilt or swivel. But it can be detached and the unit mounted on the wall with any compatible VESA mount.
Specifications:
15.6" LED Screen

2 x HDMI Inputs

USB Port

Resolution: 1366 x 768

Full Function Remote

Audio Output Power: 2 x 3W

Headphone Jack

Coaxial, VGA, Composite A/V, HDMI, USB, SPDIF, Component YPbPr

VESA 100mm Compatible

Dimensions: W 15.67 x D 5.12 x H 12.17

With the number of small screen TVs on the market dwindling rapidly the
Sceptre E165BV-HD 15.6" LED HDTV
fills a much needed niche that has all but been forgotten by the big TV manufacturers. Sure, it has its shortcomings but still manages to do a reasonable job at every attractive price.
Useful Links
Sceptre E165BV-HD Product Page
Tags: 16in screen, countertop, HDMI, HDTV, kitchen tv, LED TV, USB,