Kitchen TVs with 9 Inch Screens
Unfortunately there are not many 9" kitchen TVs to choose from. Currently the only 9" model still available is the Audiovox VE927.
Product Summaries
---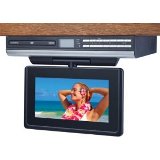 Audiovox VE927 9" Undercabinet TV/DVD
If the space saving convenience of an undercabinet kitchen TV appeals to you, the Audiovox VE927 serves up a full menu of entertainment options in a compact and stylish package.
Sony ICF-DVD57TV
Since the Sony ICF-DVD57TV does not have an ATSC tuner you are limited to AM/FM radio or CDs. To watch TV your only real option is to hook it up to a cable converter box.
Tags: 9in screen, flip down, kitchen tv, undercabinet,