RCA SPS36123 15.4 in Kitchen TV/DVD Combo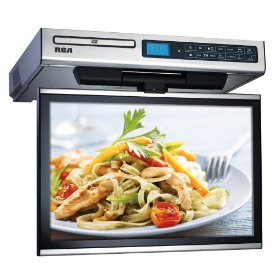 The
RCA SPS36123 under cabinet kitchen TV
, along with its close cousin the
Venturer KLV3915
is a popular option for busy home cooks. It solves a number of kitchen audio/visual requirements in one compact appliance that is simple to install and easy to use.
To start, the low-profile design fits discreetly out of the way underneath a nearby cabinet. Since it is up off the counter top you don't have to sacrifice valuable work surface areas. A big plus for any kitchen where space is at a premium.
The screen stows flat against the base unit when not in use and can be easily lowered and positioned to the desired viewing angle as needed. In the stowed position the screen surface faces inwards. This helps keep the screen clean and free of kitchen splatters. The screen itself is 15.4" measured diagonally and can rotate 270 degrees. Make sure to allow for the 90 degree 'blind spot' that the screen can't reach when you start the install.
The SPS36123 comes with both NTSC and ATSC digital tuners and can accept either aerial or cable connections. There is a automatic channel scan feature and you can label each channel to your liking or edit the channel list to only include the channels you want.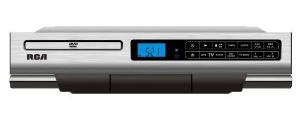 For anyone with young children there is a password protected parental control feature that allows you to restrict TV viewing based on each station's MPAA rating (TV-Y, TV-Y7, TV-G, TV-PG, TV-14, TV-MA).
If you have any 'how-to' cooking videos you can practice along with your favorite celebrity chef via the built-in DVD player. You can also create your own slide show of family photos using the JPEG viewing feature.
The radio has digital tuning and can be programed with up to 60 stations in memory (30FM and 30AM). You can select any stored channel from the remote control and scan for available stations as needed.
For home chefs there is a built-in timer function that can be set from 1-99 minutes (the timer function is only accessible from the front control panel on the base unit).
And finally RCA include a handy full function remote that is magnetic so you can keep it at hand on a nearby fridge door for quick access.
The
RCA SPS36123
sets the bar for the latest under cabinet kitchen TVs with a generous sized screen, space saving design and convenient ease of use. It comes with all the necessary bolts, spacers and a template for positioning the drill holes, along with detailed instructions. Once you have one you'll wonder how you got by without it.
As mentioned earlier the SPS36123 is virtually identical to the
Venturer KLV3915
. Be sure to check both to get the best deal as they both fluctuate in price quite a bit.
Specifications:
Under cabinet 15.4" TFT LCD Screen

ATSC/NTSC TV Tuner

Digital-tuning AM/FM Radio

Magnetic Remote Control

Clock and Timer Functions

If the screen is too big for your needs RCA make the smaller
SPS36073
with a 7in screen.
Useful Links
RCA SPS36123 Owner's Manual
Tags: 15in screen, drop down, DVD, flip down, kitchen tv, magnetic remote, under cabinet tv,